Immune system cells are able to extrude stringy DNA webs as weapons to fight invading microbes. Neutrophils, the most abundant type of white blood cells, use the so-called extracellular traps—a meshwork of DNA, histones, and antimicrobial proteins derived from the neutrophils' granules—to immobilize and kill bacteria and fungi. This process results also in the death of the neutrophils themselves.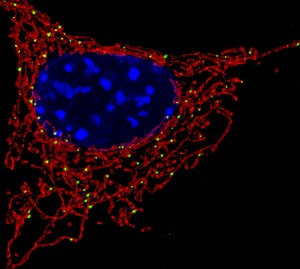 However, according to a recent study, other immune cells also extrude stringy DNA, albeit of a different nature and with different functions—instead of the DNA contained in their nucleus (the so-called nuclear DNA), they release mitochondrial DNA, or mtDNA for short. The extruded mtDNA does not immobilize and kill invading microbes—rather, it participates in inflammatory responses. The study (Lymphocytes eject interferogenic mitochondrial DNA webs in response to CpG and non-CpG oligodeoxynucleotides of class C) was published in the journal Proceedings of the National Academy of Sciences in January 2018.
For the study, researchers isolated several types of immune cells from the blood of different donors. Then,  they exposed the immune cells to a variety of triggering molecules. When exposed to a specific type of oligonucleotide that resembles DNA from pathogenic microbes, the cells rapidly ejected weblike strands of mtDNA. After ejecting the mitochondrial DNA, the cells remained intact and healthy.
The researchers also found that the web of mtDNA released from lymphocytes sends signals to the surrounding cells. These signals, or danger signals, alert the immune system that the body is under attack, causing other white blood cells to release the cytokine "interferon type-1", which helps the immune system to fight the invading microbes. Thus, the researchers identified a novel role played by lymphocytes—they communicate danger by releasing mtDNA, which in turn initiates an inflammatory response through release of interferon type-1.
Björn Ingelsson, one of the study co-authors, said in a press release: "We show that the white blood cells in the immune system can release mtDNA outside the cells in an active process in response to infectious agents such as bacteria and viruses. The discovery raises the possibility of further studies in which we will try to reduce the release of mtDNA, and in this way reduce the inflammation that it causes."
High levels of interferon type-1, the cytokine released in response to the formation of the mtDNA webs, are present in several autoimmune diseases and several types of cancer, which are associated with high levels of inflammation.
Therefore, Ingelsson added: "Well, of course it's positive that the defense mechanisms are activated. But remember that you can have too much of a good thing. If an unintentional secretion of mtDNA occurs, or if the secreted mtDNA is not removed from the blood, undesired inflammation may occur, and it is this side-effect we want to prevent."