A few years ago, the Zika virus and related risk of microcephaly noticeably increased public awareness of the detrimental effects of maternal infection on the offspring. However, Zika is only one of a large number of stressors that, by causing immune activation in pregnant women, generates a significant global health hazard. Notably, maternal immune activation may alter the development of brain circuitry and associated behaviors, placing the offspring at risk for psychiatric illness. "Epidemiological evidence implicates maternal infection as a risk factor for autism spectrum disorder and schizophrenia. Animal models corroborate this link and demonstrate that maternal immune activation alone is sufficient to impart lifelong neuropathology and altered behaviors in offspring."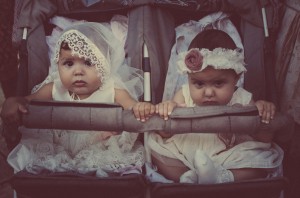 Results from a recent prospective study carried out in humans and published in the Journal of Neuroscience now confirm findings from epidemiological studies and studies in animal models. The new prospective study, "Maternal immune activation during the third trimester is associated with neonatal functional connectivity of the salience network and fetal to toddler behavior", was designed to assess possible links between markers of inflammation in the mothers' blood with changes in the nervous system of their babies. Brain development was evaluated in the fetus, through birth, and all the way into toddlerhood. For the study, researchers recruited young women (14 to 19 years) in their second trimester of pregnancy. Because of their age at pregnancy, these women represented a group at high risk for psychosocial stress and resulting inflammation.
The researchers then, during the third trimester of pregnancy, collected blood and carried out fetal heart monitoring, as the fetal heart rate is an indicator for nervous system development. They also performed anatomical brain scans of the newborns, and cognitive behavioral assessment of the babies at 14 months of age. Blood was used to measure levels of interleukin-6 (IL-6) and C-reactive protein (CRP), as these proteins are major markers of immune activation.
The researchers found that the presence of CRP during the third trimester of pregnancy correlated with variability of the fetal heart rate, indicating that maternal inflammation was already beginning to shape brain development. The neural development of the newborn babies was determined through anatomical brain scans done during the first few weeks of life. Brain scan results showed that significant changes in the communication between specific brain regions correlated with elevated maternal IL-6 and CRP levels. These brain regions are collectively known as the salience network, which filters stimuli coming into the brain and select those that deserve attention.
Bradley Peterson, senior author of the study, said in a press release: "Our brain is constantly receiving information from our bodies and the external world. The salience network sifts through that information and decides what is important and warrants action."
The observed effects were not limited to the newborn period, but continued to persist into toddlerhood. When the babies turned 14 months of age, the researchers assessed them for motor skills, language development, and behavior, and found significant changes in toddlers born to mothers with elevated levels of both IL-6 and CRP.
Peterson added: "While researchers still have much work to do in order to completely understand just how these immune factors contribute to altered brain development, this study represents an important step forward. This finding fills in a missing piece. Although studies in animals have suggested it, this study indicates that markers of inflammation in a mom's blood can be associated with short- and long-term changes in their child's brain, which will now allow us to identify ways to prevent those effects and ensure children develop in the healthiest possible way beginning in the womb and continuing through later childhood and beyond."