IgD, one of the five antibody classes, is considered an enigmatic player in the immune response—we do not understand well what it does. IgD is present on the cell surface of "mature naive" B cells as a major component of the B cell receptor, or BCR, and is secreted in very limited amounts in the circulation. But what are "mature naive" B cells? These are B cells that, after undergoing various stages of development in the bone marrow, enter the circulation—ready to bind foreign specific antigens for the first time. In other words, they're ready to recognize, through their BCR, antigens from invading microbes. Most B cells that respond to self-antigens are eliminated in the bone marrow at the so-called immature stage in order to avoid damaging responses, or autoimmune responses, against our own organs. However, not all cells that respond to self-antigens are eliminated—some reach the circulation, undergo "clonal anergy," and can be found in secondary lymphoid organs such as lymph nodes.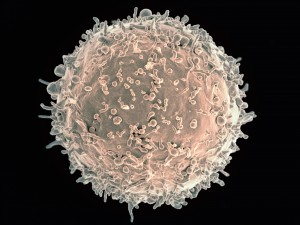 First proposed by Gus Nossal, the "Clonal Anergy" theory suggested that self-reactive B cells become anergic—or unresponsive—and, although present in the circulation, fail to be activated when encountering antigens that their BCR can bind. Later, other researchers found that self-reactive T cells can also undergo clonal anergy. Such mechanism prevents the development of autoimmune diseases, which are characterized by immune responses that attack our own tissues. For example, in autoimmune diseases such as systemic lupus erythematosus, rheumatoid arthritis, and type 1 diabetes, self-reactive B cells produce auto-antibodies that induce considerable organ damage.
Now, results from a new study (IgD attenuates the IgM-induced anergy response in transitional and mature B cells) published in the journal Nature Communication on November 10, 2016, show that IgD is responsible for inducing clonal anergy in self-reactive cells, thus inhibiting production of auto-antibodies, or antibodies that bind self-antigens. In other words, IgD keeps self-reactive B cells in "lockdown"—unresponsive to the body's tissues, yet still capable of producing antibodies against invaders.
The researchers carried out their study in a mouse model. They evaluated gene expression across the whole genome in locked down (or anergic) B cells, comparing mice with or without functional IgD. The study results revealed a core set of over 200 genes, one third of which are controlled by IgD, that together keep the cells unresponsive to the body's own tissues.
The study results also indicated that the B cells in lockdown are not removed from the immune system. On the contrary, they accumulate in the spleen and lymph nodes—just as other B cells do—thanks to mechanisms controlled by IgD. If necessary, these cells take part in "target training" to make antibodies against invaders. What is "target training"? In specialized areas of the lymph nodes called germinal centers, B cells undergo the process of somatic hypermutation, which induces structural changes in the antigen-binding site of the BCR. Thus, this process fine-tunes the antigen-binding site—a BCR originally directed to a self-antigen may become able to recognize a foreign antigen. Once the B cell with the changed BCR recognizes the specific foreign antigens, it becomes a plasma cell that produces large amounts of secreted antibodies against that specific foreign antigen.
Christopher Goodnow, senior author of the study, said in a press release: "We have known for some time that more than half of the immune system's B cells are capable of producing damaging antibodies against the body's own tissues—yet they don't do this. What we haven't understood before is why and how the immune system keeps these potential 'traitor cells' alive, instead of getting rid of them completely. Our new research shows that the antibody IgD is the key player in locking down the traitor cells, so that the immune system can hedge its bets between discarding these cells and drawing upon them to fight an infection. By placing the cells that bear auto-antibodies in lockdown, IgD dials down their capacity to produce antibodies against the body's own tissues—but keeps them alive in case they are needed to fight invasion by a microbe."
Joanne Reed, one of the study co-authors, pointed out: "Our experiments have shown that, although IgD places the B cells that can produce autoantibodies in lockdown, it still promotes the formation of germinal centers of those muted cells, which is like a military special operations camp of B cells that begin sharpening their ability to target an invader when they 'see' one."
Goodnow added: "We think that the large-scale lockdown of B cells is the immune system's way of avoiding 'holes' in its defensive line, so that it is ready to respond to any conceivable invasion. If every B cell capable of producing autoantibodies was removed, rather than kept in lockdown, we would severely limit the number of foreign invaders that our immune system could recognise. By locking down B cells, and keeping them alive, IgD strikes a delicate balance between protection from invaders and avoiding an immune attack on the body's own tissues."