The cigarettes known by many different names—e-cigarettes, e-cigs, e-hookahs, mods, vape pens, apes, tank systems, electronic nicotine delivery systems (ENDS) and more—may cause harm by suppressing the immune system, as indicated by recent research.
Last year, a study published in the American Journal of Physiology suggested that inhaling the vaporized flavored liquids in e-cigarettes is associated with decreased expression of a large number of immune-related genes in the epithelial cells that line the nasal mucosa, indicating the presence of immune suppression at this level.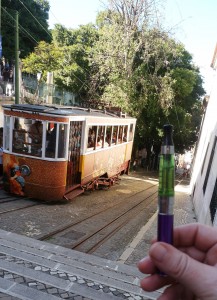 Now, results from a new study published in the American Journal of Respiratory and Critical Care Medicine show that e-cigarette use causes a unique innate immune response in the lung. This unique innate immune response involves increased activation of neutrophils and altered mucin seceretion.
Mehmet Kesimer, senior author of the study, said in a press release: "There is confusion about whether e-cigarettes are 'safer' than cigarettes because the potential adverse effects of e-cigarettes are only beginning to be studied. This study looked at possible biomarkers of harm in the lungs. And our results suggest that in some ways using e-cigarettes could be just as bad as smoking cigarettes."
So, what did the researchers found exactly in their study? By analyzing and comparing sputum samples from 15 e-cigarette users, 14 current cigarette smokers and 15 non-smokers, they discovered that there was a significant increase in neutrophil granulocyte- and neutrophil-extracellular-trap (NET)-related proteins in airways of e-cigarette users as compared to the other groups. Neutrophils are major players in the innate immune response, and participate to critical defense mechanisms against most pathogens. However, uncontrolled neutrophil activity can contribute to inflammatory lung diseases, such as chronic obstructive pulmonary disease (COPD)—a type of obstructive lung disease characterized by long-term breathing problems and poor airflow—and cystic fibrosis.
The researchers also found that e-cigarettes caused some of the same negative consequences as cigarettes. In both e-cigarette and cigarette users, there was a significant increases in biomarkers of oxidative stress—aldehyde-detoxification and oxidative-stress-related proteins, thioredoxin, and matrix metalloproteinase-9—and activation of innate defense mechanisms associated with lung disease. In addition, they found a significant increase in the secretion of mucin 5AC, one of the mucus components. Overproduction of mucin 5AC is associated with pathologies of the lung, including chronic bronchitis, bronchiectasis, asthma, and wheeze.
Kesimer added: "Comparing the harm of e-cigarettes with cigarettes is a little like comparing apples to oranges. Our data shows that e-cigarettes have a signature of harm in the lung that is both similar to what we see in cigarette smokers and unique in other ways. This research challenges the concept that switching to e-cigarettes is a healthier alternative."
In the United States, e-cigarettes have been on the market for about a decade. A few years ago, their use skyrocketed. Below is the current Centers For Disease Control and Prevention bottom line for e-cigarettes;
E-cigarettes have the potential to benefit adult smokers who are not pregnant if used as a complete substitute for regular cigarettes and other smoked tobacco products.
E-cigarettes are not safe for youth, young adults, pregnant women, or adults who do not currently use tobacco products.
While e-cigarettes have the potential to benefit some people and harm others, scientists still have a lot to learn about whether e-cigarettes are effective for quitting smoking.
If you've never smoked or used other tobacco products or e-cigarettes, don't start.
Additional research can help understand long-term health effects.