Tissue injury or infection results in the development of a rapid local inflammatory response, a cascade of events necessary for the clearance of invading microbes, the minimization of tissue damage, and finally the restoration of normal tissue function, or resolution. The resolution phase occurs without compromising host defenses. Similarly to other biological cascades, the inflammatory response is shaped by the balance of positive and negative feedback loops, and requires the coordinated action of many different cell types. Among these cell types, phagocytic cells play a major role. However, these cells are not only involved in the initiation and development of the inflammatory response—through a process called efferocytosis, they also participate to resolution of inflammation, subsequent tissue repair and maintenance of tissue homeostasis.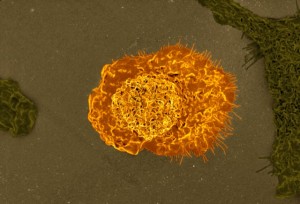 Efferocytosis, from the Latin efferre—translated as "carry out for burial" or "carry to the grave"—refers to the removal of corpses, or phagocytic clearance of dying cells and cellular debris. It is performed mostly by macrophages, which gobble up all sorts of bodies, and is orchestrated through the classical set of "find me," "eat me," and "tolerate me" signals. Failure in the process of efferocytosis may lead to unchecked inflammation, autoimmune diseases such as systemic lupus erythematous and rheumatoid arthritis, or other disorders.
Another cell type involved in the inflammatory response is the T regulatory cell. T regulatory cells, or Tregs for short, suppress the inflammatory activity of both innate and adaptive immunity, and secrete proteins involved in tissue repair. Results from a study published this month in the journal Immunity show that Tregs boost the ability of macrophages to carry out efferocytosis during the resolution phase of the inflammatory response.
For the study (Regulatory T Cells Promote Macrophage Efferocytosis during Inflammation Resolution), researchers used 3 in vivo models of inflammation— zymosan-induced peritonitis, lipopolysaccharide-induced lung injury, and advanced atherosclerosis. The found that, in zymosan-induced peritonitis and lipopolysaccharide-induced lung injury, Treg cells increase in the early resolution phase, and their depletion decreases efferocytosis. In addition, they found that in advanced atherosclerosis—a disease that involves defects in efferocytosis and resolution—efferocytosis is improved by the expansion of Treg cells.
The researchers also identified the specific sets of events leading to the enhancement of efferocytosis mediated by Treg cells. The first of these events is the secretion of interleukin-13 (IL-13) by Treg cells. In turn, IL-13 stimulates production of interleukin 10 (IL-10) in macrophages. Then, autocrine-paracrine signaling by IL-10 induces the guanine nucleotide exchange factor Vav1 in macrophages. Finally, Vav1 activates the GTPase Rac1, enabling macrophages to optimally internalize apoptopic cells.
The researchers suggest that therapeutic interventions able to boost the Treg cells/IL-10/IL-13 axis might help prevent disorders associated with impaired resolution, including atherothrombotic disease and the pathophysiological consequences of sepsis and inflammatory lung disease.