Influenza is a serious disease that can lead to hospitalization and sometimes even death. Every flu season is different, and influenza infection can affect people differently, but millions of people get the flu every year, hundreds of thousands of people are hospitalized, and thousands or tens of thousands of people die from flu-related causes every year. Even healthy people can get very sick from the flu and spread it to others. An annual seasonal flu vaccine is the best way to reduce the risk of getting sick with seasonal flu and spreading it to others. When more people get vaccinated against the flu, less flu can spread through a community.
Current influenza vaccines induce neutralizing antibodies against the membrane surface proteins hemagglutinin (HA) and neuraminidase (NA) of the influenza virus. The influenza virus undergoes antigenic drifts and shifts of HA and NA genes. Antigenic drifts are small changes that happen continually over time as the virus replicates, whereas shifts are abrupt, major changes.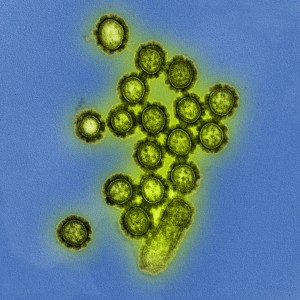 Because of the antigenic changes—which result in new strains of influenza virus—the flu vaccine composition is reviewed each year, and updated as needed to keep up with evolving viruses. Why? A person infected with a particular flu virus strain develops antibody against that virus strain. As antigenic changes accumulate, the antibodies produces against the older HA and NA no longer recognize the "newer" version of the same antigens and, therefore, no longer recognize the original flu strain. For this reason, it is necessary to develop vaccines that induce broadly neutralizing epitopes—HA and NA epitopes that remain unchanged even though other epitopes mutate.
Current seasonal influenza vaccines mainly target HA. Now, results from a new study show that influenza vaccines that better target NA could offer broad protection against various influenza virus strains and lessen the severity of illness. The study (Influenza Infection in Humans Induces Broadly Cross-Reactive and Protective Neuraminidase-Reactive Antibodies) was published in the journal Cell on April 5, 2018.
For the study, researchers analyzed blood samples from people vaccinated against influenza and people diagnosed with either the 2009 H1N1 influenza virus or H3N2 influenza viruses. They found that influenza vaccines rarely induce NA-reactive antibodies, whereas natural influenza infection induces these types of antibodies at least as often as they induce HA-reactive antibodies. The researchers then confirmed their results in mice—current influenza vaccines do not induce NA-reactive antibodies efficiently.
Notably, the study results also show that the NA-reactive antibodies induced during natural influenza infection are broadly reactive—therefore, they could potentially protect against diverse strains of influenza virus. To test this theory, the researchers isolated from humans monoclonal antibodies reactive against the NA2 and NA1 variants from the H3N2 and H1N1 strains (N2-reactive antibodies and N1-reactive antibodies, respectively). They administered 13 N2-reactive antibodies to mice and subsequently infected the mice with a different H3N2 virus strain. Eleven of the 13 N2-reactive antibodies partially or fully protected the mice. They also administered 8 N1-reactive antibodies to mice and subsequently infected the mice with a similar H1N1 virus strain or an H5N1-like virus strain. Four of the eight antibodies completely protected the mice against both virus strains.
The researchers concluded that flu vaccines should be optimized to better target NA in order to induce broad protection against diverse influenza strains.