Vaccines induce memory responses that allow the generation of rapid and heightened immunity—once exposure to the corresponding infectious microbe occur. How do vaccines induce memory responses? They do so by tricking the immune system into thinking it is experiencing an infection caused by the corresponding live microbe.
Vaccines consist of either live (attenuated) or killed microbes, or microbial components. Live vaccines replicate within the vaccinated host without causing disease, and are known—among the different types of vaccines—to induce the most effective immune responses. A new study published last month (March 19, 2018) in the journal Nature Immunology identifies the immunological mechanisms responsible for the efficacy of live vaccines.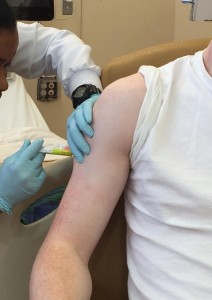 In contrast to killed vaccines, live vaccines contain metabolically active microbes, which produce a wide range of different molecules. The study (Recognition of microbial viability via TLR8 drives TFH cell differentiation and vaccine responses), which focused on live bacterial vaccines, found that one of the molecules produced by live bacteria marks them as viable. The molecule, ribonucleic acid (RNA), binds a specific type of immune receptor known as Toll-like receptor 8 (TLR8).
TLR8 is expressed on the cell surface of monocytes and, once triggered by RNA binding, initiates an immunological chain reaction that eventually leads to the production of a robust antibody response. The chain reaction includes the involvement of a specialized type of immune cells known as follicular helper cells (TFH). TFH cells play a critical role in the differentiation of B cells into plasma cells, which are cellular factories for antibody production.
For the study, researchers used a cell culture system consisting of human immune cells to compare responses generated against different live and killed bacteria. They found that live bacteria elicited slightly altered immune responses within the innate immune system—however, while the changes within the innate immune system were moderate, the effects on the adaptive immune response, which is responsible for the production of antibodies and for long-term memory, were striking. The striking effects were due to the induction, by live bacteria, of large amounts of IL-12 produced by monocytes—IL-12 then drives naive CD4+ T cells to differentiate into  TFH cells. The researchers obtained similar results with E. coli, Gram-positive bacteria and mycobacteria.
The researchers then used an animal model—domestic pigs—to confirm the results obtained in the cell culture system. They immunized domestic pigs with either a live or heat-killed Salmonella vaccine and found that the live vaccine induced robust TFH cell responses as well as robust antibody responses, whereas the heat-killed vaccine did not.
Finally, the researchers found that individuals carrying a TLR8 gene variant responded better to immunization with bacillus Calmette-Guérin (BCG), the live tuberculosis vaccine.
All together, the study findings support a model in which natural infection or vaccination with live attenuated vaccines activate myeloid cells via TLR8 to produce large amounts of IL-12, which in turn drive differentiation of TFH cells and subsequent activation of B cells. Activation of B cells, then, results in B cell memory responses. Thus, TLR8 acts as a key switch for protective immune responses.
Leif Erik Sander, the study's principal investigator, said in a press release: "Our immune system responds differently to killed and live vaccines. This is caused by the detection of RNA within live microorganisms via TLR8, which in turn triggers protective immune responses. These results may enable us to develop new vaccines that will combine the safety of modern subunit vaccines with the high efficacy of live vaccines."