Natural Killer (NK) cells are lymphocytes that were first noticed for their ability to kill cancer cells without any priming by antigen presenting cells and in absence of prior activation—for this reason, they were dubbed "natural". They derive from a common progenitor shared with B and T cells. However, NK cells are classified as group I Innate Lymphocytes (ILCs), as they're cells of the innate immune system and respond quickly to a variety of pathogenic and cancerous threats. In addition, they secrete cytokines such as IFNγ and TNFα, which act on other immune cells like macrophage and dendritic cells to enhance the immune response.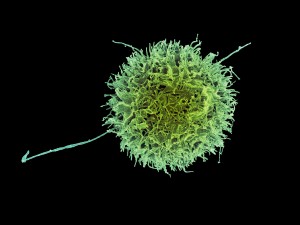 Although NK cells are best known for killing cells infected with viruses and for detecting and controlling early signs of cancer, they have additional functions. Indeed, it has been known for a long time that NK cells are among the most abundant immune cells in the uterus during the first trimester of pregnancy. Since their discovery, uterine NK cells have been studied as an example of specialized immune cells endowed with unique functions that developed during the evolution of mammalian pregnancy. For example, uterine natural killer cells promote immune balance and the growth of blood vessels in the placenta, having a positive impact on birth weight as well as fetal growth.
Now, results from a recent study show that a specific subset of uterine NK cells help to optimize maternal nourishment of the fetus at early stages of development. The newly identified NK subset secretes growth-promoting factors in humans and mice. Notably, transfer of these cells can reverse impaired fetal growth in pregnant mice.
Co-senior study author Haiming Wei said in a press release: "These findings not only reveal new properties of natural killer cells during early pregnancy, but also point to approaches for therapeutic administration of natural killer cells in order to reverse restricted nourishment within the uterine microenvironment. The study will have major implications for our approach to adoptive cell therapy strategies for the generation of not only natural killer cells against pathogens and tumors, but also natural killer cells supporting body development and tissue engineering."
The study results show that the specific NK cell subset identified in the human uterine lining, which has been designated CD49a+Eomes+, secretes two growth-promoting factors called pleiotrophin and osteoglycin, respectively. Pleiotrophin is involved in tissue repair, and in the growth of blood vessels, bone, cartilage and other tissues. Osteoglycin drives heart development and healthy growth of skin and eyes.
In addition, study results show that in women who experience recurrent spontaneous abortion, the uterine lining contains a smaller proportion of CD49a+Eomes+ NK cells (42%) as compared to healthy pregnant women (81%). These findings suggest that in women with recurrent spontaneous abortion, decreased numbers of CD49a+Eomes+ NK cells are responsible for insufficient secretion of growth-promoting factors, which in turn leads to restricted fetal development.
The study also includes the generation of genetically engineering mice that lack uterine NK cells. Results show that these mice produce fetuses that not only are only half the normal size, but also exhibit defective development of the fetal skeletal system. Remarkably, the transfer of NK cells in these mice reverses fetal growth impairment. However, on the basis of the currently available data, the researchers cannot say whether the growth-promoting factors affect fetal development directly by crossing the maternal-fetal barrier, or indirectly by promoting the formation of the placenta and the growth of blood vessels.
All together, the findings provide an avenue for improving the uterus microenvironment, which could help with the treatment of recurrent spontaneous abortions of unknown causes and age-related fetal loss. It may be possible to transfer NK cells to pregnant mothers via intravenous infusion, or by administering a vaginal suppository, thus avoiding the need for invasive procedures.