On November 21, 2016, thousands of people were struggling for breath in Melbourne, Australia.  They overwhelmed ambulance services and hospital emergency departments, formed long lines around pharmacies, and were helped by firefighters and police officers when paramedics became overloaded.  The episode resulted in hundreds of hospitalizations and multiple deaths.  The cause?  Thunderstorm asthma—severe asthma attacks were triggered by conditions associated with a violent thunderstorm.  This was not the first instance of thunderstorm asthma.  Indeed, rapid spikes in sudden asthma attacks have been linked to thunderstorms in the UK, Australia, Italy, the US, and other countries since the early 1980s.  The Melbourne case was the most deadly and severe of them all.
Asthma is a disease that affects the lungs, causing wheezing, breathlessness, chest tightness, and coughing.  The most common type of asthma is allergic asthma, a chronic inflammatory disorder of the airways that is driven by maladaptive T helper 2 and T helper 17 immune responses against harmless, airborne substances—for example pollen—in genetically susceptible individuals.  It affects about 300 million people globally and accounts for 1 in every 250 deaths in the world.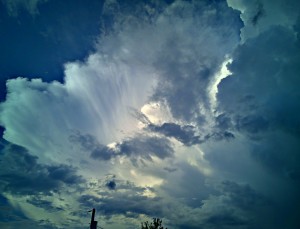 In the United States, the number of people with asthma continues to grow.  One in 12 people (about 25 million, or 8% of the population) had asthma in 2009, compared with 1 in 14 (about 20 million, or 7%) in 2001.  Approximately 12 million people each year experience an asthma attack, a quarter of which require hospitalization.  "An asthma attack may include coughing, chest tightness, wheezing, and trouble breathing.  The attack happens in your body's airways, which are the paths that carry air to your lungs.  As the air moves through your lungs, the airways become smaller, like the branches of a tree are smaller than the tree trunk.  During an asthma attack, the sides of the airways in your lungs swell and the airways shrink.  Less air gets in and out of your lungs, and mucous that your body makes clogs up the airways even more."
So, what triggers asthma attacks  during a thunderstorm?  "One leading theory is that during thunderstorms, certain types of pollen grains are drawn up to the humid cloud base where they rupture and shed much finer highly allergenic granules into the atmosphere.  When broken open, each pollen grain can release more than 500 allergy-causing granules.  These fall back to the ground in cold downdrafts and, because they are much smaller than pollen particles, can be inhaled deep into the lungs.  There, the particles may bring on severe asthma attacks in people who suffer from pollen allergies."
Paul Beggs, an environmental health scientist with Macquarie University in Sydney, told The Guardian that the potency of pollen grains had been increasing.  "Anthropogenic climate change through the release of carbon dioxide into the atmosphere could be responsible for this growing pollen potency."  Plants use carbon dioxide in photosynthesis.  He says that changing the concentration of carbon dioxide in the atmosphere changes the plants' growth conditions.  Scientists placed highly allergenic plants into a glass house with controlled conditions, including temperature, light, water, and levels of carbon dioxide.  They found that increasing the amount of carbon dioxide leads to plants producing more pollen and more potent pollen.  Beggs said: "All of these thing are happening in the background: climate change, increasing pollen potency, and they all mean a thunderstorm asthma episode is more likely than it was 20 years ago."
Now, scientists are exploring new ways of predicting thunderstorm asthma outbreaks, so to provide early warnings for health professionals, emergency management officials and residents in high-risk areas.  They carried out a study based on well-known aspects of thunderstorm diagnostics often used by meteorologists to assess storm severity.
According to the study, the combination of rainfall, winds and lightning from thunderstorms in conjunction with pollen or mold spores can worsen asthma symptoms.  Rainfall and high humidity rupture bioaerosols, particularly rye grass pollen grains.  Thunderstorm electrical activity contributes further pollen fragmentation, and gusty winds can spread pollen granules ahead of the storm.  Several of the factors in combination may result in these events reaching epidemic proportions.
Andrew Grundstei, lead author of the study, said in a press release: "Thunderstorm asthma is a very complex phenomenon and involves interactions of allergens like grass pollens, thunderstorms and susceptible groups of people.  Our study may help anticipate significant thunderstorms by employing a technique that helps identify wind magnitudes commonly associated with thunderstorm asthma outbreaks."