Climate change is expected to significantly influence the geographical distribution and impact of infectious diseases worldwide, especially those that require vectors such as mosquitoes and ticks for transmission. However, undernutrition has been identified as the greatest effect of climate change on health.
Now, results from a new study published February 19, 2019, in the Proceedings of the National Academy of Sciences, give a different perspective to this problem. The study (High ambient temperature dampens adaptive immune responses to influenza A virus infection) examines how high temperatures and subsequent reduced food intake affect the adaptive immune response to influenza virus infection.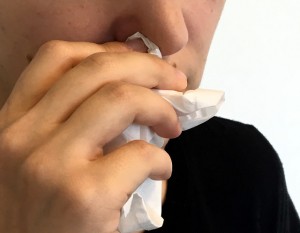 The researchers housed healthy, young adult female mice in different temperature conditions—a group of mice was kept at refrigerator-cold temperature (4 degrees Celsius or 39.2 degrees Fahrenheit), another group at room temperature (22 C or 71.6 F), and an additional group at high-heat (heat wave) temperature (36 C or 96.8 F). The researchers then infected the mice in the different groups with the influenza virus, and compared their immune responses.
The researchers found that, compared with mice kept at room temperature, high heat-exposed mice reduced their food intake and exhibited a 10% reduction in body weight, although commensal microbiota composition remained intact. In addition, high heat-exposed mice developed impaired immune responses to the influenza virus— these mice failed to stimulate inflammasome-dependent cytokine secretion and migration of respiratory dendritic cell to lymph nodes, and exhibited increased autophagy in lung tissue. In room temperature-exposed mice, induction of autophagy severely impaired virus-specific CD8 T cells and antibody responses.
Heat exposure also impaired immune responses in mice infected with either Zika virus or a pathogenic tick-borne phlebovirus that causes severe fever with thrombocytopenia syndrome. Injection with either glucose or dietary short-chain fatty acids (which are metabolites produced by gut microbes) restored influenza virus-specific adaptive immune responses in high heat-exposed mice.
These findings suggest that outside temperature and host nutritional status may be critical determinants of viral pathogenesis or vaccine efficacy. People often lose their appetite when they feel sick. If someone stops eating long enough to develop a nutritional deficit, that may weaken the immune system and increase the likelihood of getting sick again.
Takeshi Ichinohe, one of the two study co-authors, said in a press release: "People often lose their appetite when they feel sick. If someone stops eating long enough to develop a nutritional deficit, that may weaken the immune system and increase the likelihood of getting sick again." He added: "Perhaps vaccines and nutritional supplements could be given simultaneously to communities in food-insecure areas. Clinical management of emerging infectious diseases, including influenza, Zika, and Ebola, may require nutritional supplements in addition to standard antiviral therapies."