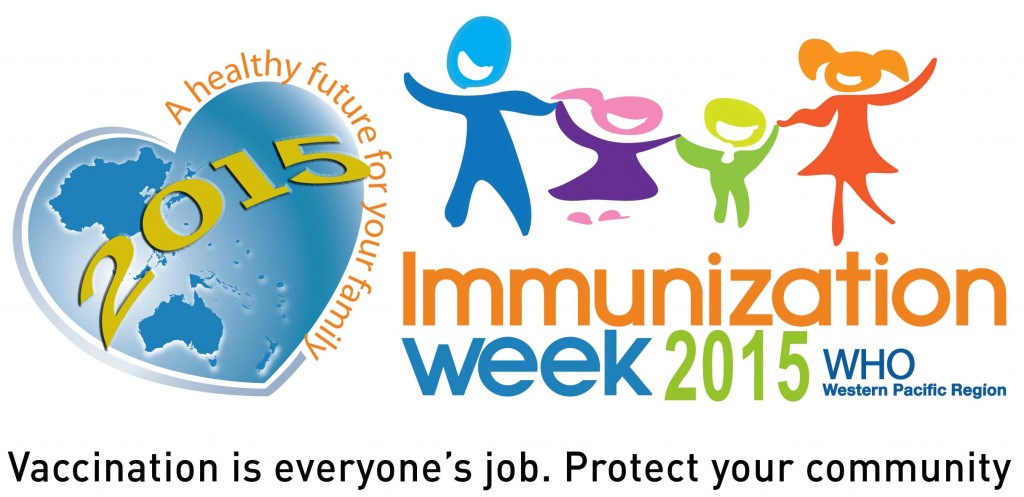 Vaccination affects us all, and in World Immunization Week 2015 (April 24 – 30), the World Health Organization (WHO) is calling on everyone, from policy-makers and health professionals to community-based initiatives and the private sector, to raise awareness about the importance of immunization and mobilize their collective resources and creativity to close the immunization gap. By keeping deadly and mutilating communicable diseases in check, vaccines are — and will remain essential to maintaining and expanding health gains. Vaccines are an important tool in tackling future outbreaks and epidemics.
This year, the theme of World Immunization week is "Close the immunization gap": the gap between the 1 in 5 children who still do not receive basic life-saving vaccines, as well as to the gaps in progress towards the targets set by the Global Vaccine Action Plan (GVAP). The GVAP envisions a world where everyone lives life free from vaccine preventable diseases – whoever they are, wherever they live – by 2020.
The GVAP aims to:
strengthen routine immunization to meet vaccination coverage targets;
accelerate control of vaccine-preventable diseases with polio eradication as the first milestone;
introduce new and improved vaccines; and
spur research and development for the next generation of vaccines and technologies.
According to the most recent WHO estimate, 1.5 million children die every year of diseases that could be readily prevented by vaccines that already exist. In 2013, nearly 22 million infants missed out on the essential diphtheria-tetanus-pertussis vaccine (DTP3), many of them living in the world's poorest and most vulnerable communities.
There are three steps to closing the immunization gap:
1. Integrate immunization with other health services
2. Strengthen health systems to improve vaccine delivery to reach every last child
3. Ensure vaccines are both accessible and affordable to all
While the global theme this year focuses on closing the immunization gap and reaching equity in immunization levels as outlined in the GVAP, the Western Pacific Region goes a step further to commit that this endeavor of protecting the communities through vaccination is everyone's job.