Most current vaccines are administered through needles and syringes. Injections are given either subcutaneously (below the skin), intradermally (into the skin) or intramuscularly (into the muscle). However, the use of needles presents several disadvantages. For example, needle fears are a documented barrier to immunization in children and adults. It's not surprising, then, that much research is being dedicated to the identification of effective needle-free technologies for vaccine administration. Among the many technologies currently in development, the MucoJet delivery system has very recently shown promising results in animal studies.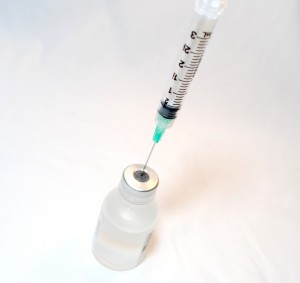 In a study published yesterday (March 8, 2017) in the journal Science Translational Medicine, a group pf researchers showed the efficacy—in rabbits—of the Mucojet, a needle-free delivery device. According to the researchers, "the Mucojet uses a self-contained gas-generating chemical reaction within its two-compartment plastic housing to produce a high-pressure liquid jet of vaccine." The researchers showed that the vaccine jet ejected from the MucoJet device is capable of penetrating the buccal mucosal layer. For the immunization experiments in rabbits, the MucoJet was placed against the cheek inside the oral cavity. The test vaccine consisted of ovalbumin, a protein frequently utilized in preliminary immunization studies. The researchers found that the rabbits produced anti-ovalbumin antibodies up to 6 weeks after vaccination.
Although the buccal region is rich in immune cells, it is not frequently used as a site for injecting vaccines. This is because currently available technologies do not lead to the efficient penetration of the thick mucosal layer in this part of the oral cavity, as for example in the case of the oral spray often used for influenza vaccination.
MucoJet includes two plastic compartments, which are 3D-printed from a biocompatible and water-resistant plastic resin. The exterior compartment holds water. The interior compartment is composed of two reservoirs separated by a porous plastic membrane and a movable piston. One reservoir contains a chamber of vaccine solution with a piston at one end and a sealed delivery nozzle at the other end. The other reservoir contains a dry chemical propellant consisting of citric acid and sodium bicarbonate).
To administer the MucoJet, a patient clicks together the interior and exterior compartments, causing a chemical reaction that generates carbon dioxide gas. The gas increases the pressure in the propellant chamber, causing the piston to move. When the pressure in the propellant chamber is high enough, the force on the piston breaks the nozzle seal of the vaccine reservoir. The vaccine solution is then ejected from the MucoJet nozzle, penetrates the mucosal layer of the buccal tissue, and delivers the vaccine to the underlying antigen-presenting cells.
Kiana Aran, senior author of the study, said in a press release that the jet is similar in pressure to a water pick that dentists use. She added: "The pressure is very focused, the diameter of the jet is very small, so that's how it penetrates the mucosal layer. Imagine if we could put the Mucojet in a lollipop and have kids hold it in their cheek. They wouldn't have to go to a clinic to get a vaccine."