Breastfeeding is the best source of nourishment for infants and young children — and one of the most effective ways to ensure child health and survival. According to the World Health Organization (WHO), "If every child was breastfed within an hour of birth, given only breast milk for their first six months of life, and continued breastfeeding up to the age of two years, about 800 000 child lives would be saved every year."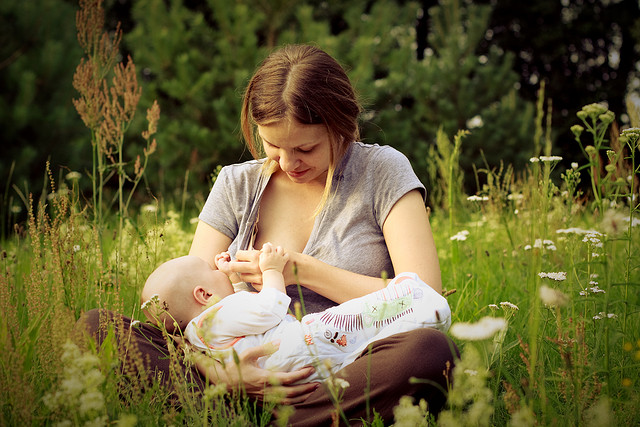 The WHO reports that globally, less than 40% of infants under six months of age are exclusively breastfed. Adequate breastfeeding counseling and support are essential for mothers and families to initiate and maintain optimal breastfeeding practices. The Academy of Nutrition and Dietetics specifies that "Exclusive breastfeeding provides optimal nutrition and health protection for the first 6 months of life, and breastfeeding with complementary foods from 6 months until at least 12 months of age is the ideal feeding pattern for infants. Breastfeeding is an important public health strategy for improving infant and child morbidity and mortality, improving maternal morbidity, and helping to control health care costs."
One of the many benefits of breastfeeding derives from the influence of breast milk on the gut microbiota — the complex ecological community made up of the trillions of microbes that inhabit the gastro-intestinal tract. Now, results from a new study suggest an additional benefit of breastfeeding — the ability to prevent the development of necrotizing enterocolitis, a devastating disorder that causes the swift and irreversible death of intestinal tissue. Necrotizing enterocolitis affects 12 percent of premature babies, is one of their most-challenging-to-treat conditions, and claims the lives of one in four babies who develop it.
The study, carried out by a team of scientists led by Johns Hopkins pediatric surgeon-in-chief David Hackam, indicates that epidermal growth factor, or EGF for short — a protein found in animal and human breast milk — blocks the activation of a protein responsible for unlocking the damaging immune cascade that culminates in necrotizing enterocolitis.
Hackam said in a press release: "We have known for some time that breast milk can protect premature babies against intestinal damage but how and why it did so has been somewhat of a mystery. We believe that our findings solve a major piece of the mystery of this disorder."
The new study builds on previous findings by Hackam's team showing that a protein called Toll-like receptor 4 (TLR4) is a key instigator of the intestinal damage seen in necrotizing enterocolitis.  Under normal conditions, TLR4 regulates the body's immune response to bacteria, but in the premature gut it plays a slightly different role — it regulates cell differentiation and intestinal growth. Shortly after birth, all babies' intestines become colonized with bacteria, a normal process of adapting to their new living environment. However, in the guts of premature babies, the TLR4 protein goes haywire, turning off oxygen supply to the intestines and causing the hallmark cell death of necrotizing enterocolitis. The researchers hypothesized that breast milk inhibits the deleterious action of TLR4 and found that EGF is responsible for this inhibition.
Misty Good, one of the researchers involved in the study, said in the press release: "Taken together our findings show that EGF is a key factor present in breast milk that prevents the onset of necrotizing enterocolitis in two ways: EGF prevents intestinal cells from dying while at the same time restores the cell growth that promotes gut healing. Importantly, our experiments stress the importance of providing breast milk to premature babies to prevent this deadly disease. The discovery of one of the components in breast milk that protects against necrotizing enterocolitis could pave the way to new therapies for the nearly half-million at-risk premature babies born in this country each year."