Our understanding of the risk factors for heart disease, the related prevention programs, diagnosis and treatment are continuously improving. At the same time, there are many unknowns that need to be studied. After all, heart disease kills more people than any other disease in the U.S. and worldwide. One of the questions in search of an answer centers around the mechanisms that lead to the repair of the injured heart. These mechanisms involve cells of the immune system, and especially cells dubbed mononuclear phagocytes, which include monocytes, macrophages, and dendritic cells. These cells modulate — either increase or suppress — the healing process of the injured heart.
Results from a new study (Embryonic and adult-derived resident cardiac macrophages are maintained through distinct mechanisms at steady state and during inflammation) published two days ago (January 16, 2014) in the journal Immunity, show that there there are two major types of macrophages involved in the healing process of the injured heart. One type appears to promote healing, whereas the other type drives inflammation, which is detrimental to long-term heart function.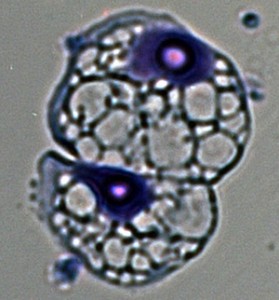 "Macrophages have long been thought of as a single type of cell," said first author Slava Epelman. "Our study shows there actually are many different types of macrophages that originate in different places in the body. Some are protective and can help blood vessels grow and regenerate tissue. Others are inflammatory and can contribute to damage."
Macrophages are involved in the elimination of pathogenic microbes as well as damaged and dead cells and also participate in the activation of other cells of the immune system.  They are present in nearly all tissues and, historically, have been viewed as deriving from white blood cells called monocytes, which originate in the bone marrow and circulate in the bloodstream. However, recent studies indicate that most populations of tissue macrophages are established embryonically, persist into adulthood and, in the absence of inflammation, maintain themselves at specific locations by proliferating.
"Now we know it's more complicated," Epelman said. "We found that the heart is one of the few organs with a pool of macrophages formed in the embryo and maintained into adulthood. The heart, brain and liver are the only organs that contain large numbers of macrophages that originated in the yolk sac, in very early stages of development, and we think these macrophages tend to be protective."
The researchers carried out their studies in mice and showed that healthy hearts maintain the population of embryonic macrophages along with a smaller population of adult macrophages derived from blood monocytes. However, during cardiac stress — as for example stress generated by high blood pressure — the embryonic macrophages are replaced by adult macrophages derived from blood monocytes.
Developmental considerations may help explain the role played by the two different types of cells. Embryonic macrophages may encourage healing by carrying out functions that, in general, help a developing embryo — for example, encourage growth as well as proper tissue organization and structure, while at the same time eliminating damaged or dead cells. On the other hand, adult macrophages originating in the bone marrow and circulating in the blood participate mostly in the inflammatory process in order to control infection.
"Now that we can tell the difference between these two types of macrophages, we can try targeting one but not the other," Epelman said. "We want to try blocking the adult macrophages from the blood, which appear to be more inflammatory. And we want to encourage the embryonic macrophages that are already in the heart to proliferate in response to stress because they do things that are beneficial, helping the heart regenerate."
Copyright © 2014 Immunity Tales.