We've known for a long time that there are good bacteria and bad bacteria. Now, we're coming to realize there are also good viruses and bad viruses. The good viruses — good for us, that is — are viruses that infect and kill bacteria. These viruses are called bacteriophage or phage. It turns out that, indeed, animals may use phage as weapons against bad bacteria (bacterial pathogens) at a strategic location, the mucosal surfaces.
Mucosal surfaces are mostly out of sight, but are present all throughout the body and line the respiratory, gastrointestinal, and urogenital tracts, as well as glands — for example lachrymal glands, salivary glands and mammary glands of the lactating breast.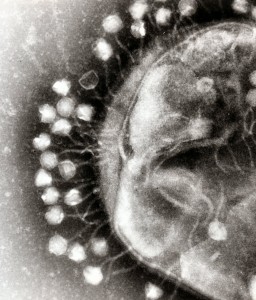 Mucosal surfaces are covered with mucus — a sticky layer that serves as a protective barrier at the interface between the environment and animal tissues. It is the mucus that traps the phage, so the phage are kept in the mucus to destroy bacterial pathogens before they can actually reach the tissues and potentially cause infection. The mucus, then, provides the stage for a unique form of symbiosis between animals and viruses. How?
To understand the answer to this question, it is important to note that phage have mostly one thing in mind — reproduction. In order to reproduce, phage multiply inside bacteria and disintegrate them in order to exit and infect more bacteria. In other words, the process of phage reproduction leads to bacterial death. Thus, phage help us control bacterial pathogens while, at the same time, helping themselves to flourish.
Jeremy Barr (San Diego State University) and his collaborators propose a detailed model to explain how mucus traps phage for protection against bacteria. The model, backed up by convincing experimental evidence, is presented in a paper published in Proc Natl Acad Sci USA (June 25, 2013 — Bacteriophage adhering to mucus provide a non–host-derived immunity).
First, the researchers demonstrated that mucus is phage-enriched compared with the surrounding environment. This finding proved true in all samples of mucus layers tested, which included coral, fish and human samples. Second, they showed that the majority of phage in mucosal samples contain specialized protein structures called Ig-like domains. These findings provided the basic information to develop the model, which was then built on additional experimental observations (see below).
Phage consist of one head and one tail. The head, which serves as a protective covering for the genetic material, is composed of many copies of one or more different proteins. The tail is a hollow tube that allows binding and transfer of the phage's genetic material to bacteria.
The researchers used an experimental model consisting of human cells in culture, the bacterial pathogen Escherichia coli, and the bacteriophage T4 to show that the phage is not only viable and able to reproduce when trapped in mucus, but also able to
efficiently kill E. coli. Furthermore, T4 trapped in mucus protected human cells in culture from death caused by E. coli. The researchers also carried out experiments showing that the mucus-phage interaction is mediated by glycans contained in the mucus glycoprotein and by Ig-like domains of the phage head proteins.
According to the general lines of the model, then, mucus and phages interact with each other, Velcro-style, through the binding of two specialized structures — a mucus glycoprotein and proteins containing Ig-like domains on the phage head.  The phage becomes embedded headfirst into the mucus, while the tail mediates infection and killing of the invading bacteria.
The model opens up intriguing new concepts and possibilities — for example, the mucus-phage interaction may represent an integral and previously unrecognized component of innate immune responses in a large variety of animals, including humans. In addition, phage able to kill specific pathogens could be used to coat mucosal surfaces in novel therapeutic approaches.
Copyright © 2014 Immunity Tales.