Alzheimer's disease, the most common form of dementia, is characterized by a gradual and then quickening and irreversible loss of memory and cognitive functioning, with associated behavioral changes.
Gerontologist Laura Wayman says: "I tell family caregivers that they need to start thinking of a loved one's brain like a piece of Swiss cheese, which has random holes in it. The disease is robbing them of brain cells that allow them to function normally." She explains that when a person with Alzheimer's tries to access the functionality of their brain, they may either access "cheese" (a lucid moment), or a "hole" (a confused moment in which they frantically try to compensate for memory loss with bizarre behaviors, often linked to feelings and memories from their past).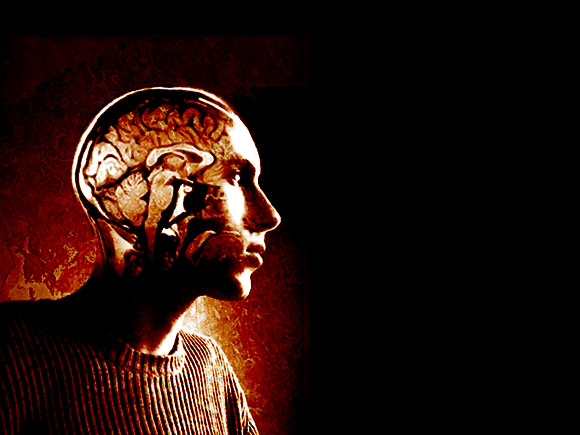 According to the National Institute on Aging, during the very early stage of disease, people with Alzheimers' disease do not show any symptoms — however, during this time, several changes take place in the brain. Abnormal deposits of proteins form amyloid plaques and tau tangles throughout the brain. Consequently, once-healthy neurons begin to work less efficiently. Amyloid plaques are the build up of sticky proteins called beta amyloid, and tau tangles are twisted strands of a protein called tau. Over time, neurons lose their ability to function and communicate with each other, and eventually die. Before long, the damage spreads to a nearby structure in the brain called the hippocampus, which is essential in forming memories. As more neurons die, affected brain regions begin to shrink. By the final stage of Alzheimer's disease, damage is widespread, and brain tissue has shrunk significantly.
However, deposits of amyloid plaques and tau tangles are only some of the numerous changes present in individuals with Alzheimer's disease. In these individuals, disease progression is also associated with altered brain immune responses, and especially with a type of immune cells called microglia.
Microglia are the resident macrophages of the central nervous system. They play a significant role not only in the healthy brain, where they support neuronal integrity, but also in the diseased or injured brain. Indeed, they're known as the brain's garbage collector — microglia scavenge dead cells, infectious microorganisms, and other debris.
Now, results from a new study carried out in a mouse model suggests that, in Alzheimer's disease, microglia begin to abnormally consume an important nutrient: arginine. In the study, blocking the over-consumption of arginine with the small drug difluoromethylornithine (DFMO) prevented the development of the characteristic brain plaques and memory loss.
For the study, the researchers analyzed different cell types and found that microglia are the only cells that divide and change early in the disease — they found an increase in the expression of genes associated with suppression of the immune system, and they also found decreased expression of genes that work to activate the immune system.
Matthew Kan, the study's first author, said in a press release: "It's surprising, because suppression of the immune system is not what the field has been thinking is happening in Alzheimer's disease. Instead, scientists have previously assumed that the brain releases molecules involved in ramping up the immune system, that supposedly damage the brain."
The researchers blocked arginase using DFMO — and therefore disrupted the pathway responsible for the utilization of arginine — before the onsets of symptoms in the mice. Blocking of arginase resulted in a decrease of microglia and plaque development in the mouse brains, and in better performance on memory tests.
DFMO is being investigated in human clinical trials to treat some types of cancer, but it hasn't been tested as a potential therapy for Alzheimer's disease. Now, the researchers are conducting experiments in mice to determine whether or not DFMO can be effective in treating the characteristic signs of Alzheimer's disease after they appear.
Carol Colton, senior author of the study, said in the press release: "We see this study opening the doors to thinking about Alzheimer's disease in a completely different way, to break the stalemate of ideas in Alzheimer's disease. The field has been driven by amyloid for the past 15, 20 years and we have to look at other things because we still do not understand the mechanism of disease or how to develop effective therapeutics."
The video below shows the intricate mechanisms involving amyloid plaques and tau tangles in the progression of Alzheimer's disease in the brain.