On October 24, 2014, the World Health Organization (WHO) announced plans to produce millions of doses of experimental Ebola vaccines by the end of 2015, with hundreds of thousands ready halfway through the year. Marie-Paule Kieny, WHO assistant director-general for health systems and innovation, said that although vaccines are not magic bullets, they may be a good part of the effort to turn the tide of the Ebola epidemic. Kieny also said that, while phase I trials of two Ebola vaccine candidates (a chimpanzee adenovirus vaccine and a recombinant vesicular stomatitis virus vaccine) were already being carried out, as many as five other Ebola vaccines could begin testing by 2015. On November 26, results from the phase I trial of the chimpanzee adenovirus vaccine (Chimpanzee Adenovirus Vector Ebola Vaccine – Preliminary Report) were published in the New England Journal of Medicine. The vaccine was well-tolerated and induced the expected antibody responses in all 20 healthy adults who received it.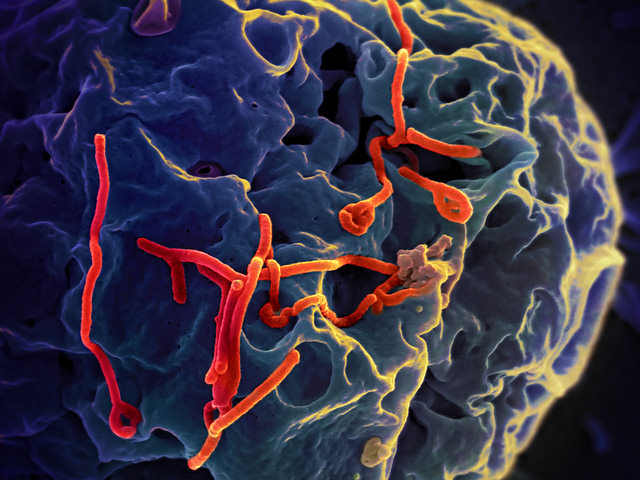 The study was conducted at the National Institutes of Health (NIH) Clinical Center in Bethesda, Maryland. The candidate vaccine, which is dubbed cAd3-EBO and was co-developed by the NIH's National Institute of Allergy and Infectious Diseases (NIAID) and GlaxoSmithKline (GSK), contains segments of the Ebola virus genetic material from the Zaire and Sudan virus species. The Ebola virus genetic material is delivered by a carrier virus (chimpanzee-derived adenovirus 3 or cAd 3), a virus that causes a common cold in chimpanzees but no illness in humans.
The phase I trial was designed to assess the safety of cAd3-EBO as well as its ability to elicit levels of immune responses known to confer protection in non-human primates. The trial enrolled healthy adult volunteers (18 and 50 years of age). Ten volunteers received an intramuscular injection of vaccine at a lower dose and 10 received the same vaccine at a higher dose. No serious safety concerns were identified, although two volunteers that had received the higher vaccine dose developed transient fever within 1 day after vaccination. Two and four weeks following vaccination, the researchers tested blood samples from the 20 volunteers and found that all volunteers produced anti-Ebola antibodies within four weeks following vaccine administration. Antibody levels were higher in the volunteers who received the higher dose vaccine.
In addition, the researchers assessed immune responses mediated by a specific type of white blood cells, called CD8 T cells. These cells are likely involved in providing protective responses against the Ebola virus. Four weeks after vaccination, CD8 T cells were detected in two volunteers who had received the lower dose vaccine and in seven of those who had received the higher dose.
Anthony S. Fauci, the NIAID director, said in a press release: "The unprecedented scale of the current Ebola outbreak in West Africa has intensified efforts to develop safe and effective vaccines, which may play a role in bringing this epidemic to an end and undoubtedly will be critically important in preventing future large outbreaks. Based on these positive results from the first human trial of this candidate vaccine, we are continuing our accelerated plan for larger trials to determine if the vaccine is efficacious in preventing Ebola infection." 
Despite the promising results of this first trial, there are several questions that will need to be answered though the planned larger trials before scientists can determine whether or not the cAd3-EBO vaccine has the potential to be truly effective. For example, Andrew Easton, a leading virologist at Britain's Warwick University, told CNN: "We know from some of the preliminary work that went on in animal studies previously that the antibodies that are generated in response to the vaccine don't last as long as we would like — there was a clear reduction over a fairly long period of time, about 10 months, so it's possible that that might be a problem in humans."
Another concern — among many others — relates to the finding that only some of the volunteers produced CD8 T cells active against the virus. However, all together, the results of the first cAd3-EBO trial represent an important first step towards the development of a safe and effective Ebola vaccine.
Copyright © 2014 Immunity Tales.