Tuberculosis, a preventable and curable disease, ranks alongside HIV infection/AIDS as a leading cause of death worldwide. Indeed, new data from the World Health Organization reveal that the global tuberculosis burden is higher than previously estimated. The risk of developing tuberculosis is between 26 and 31 times greater in people living with HIV than among those without HIV infection. The existing vaccine is largely ineffective against pulmonary tuberculosis, the most common and contagious form of the disease. Drug-resistant strains of Mycobcaterium tuberculosis, the causative agent of the disease, continue to spread, far outpacing the development of new drugs. In the global context, tuberculosis in intimately linked to poverty, and control of tuberculosis is ultimately a question of justice and human rights. However, development of new diagnostics, therapeutics and vaccines is a global priority—numerous research efforts are currently underway, and point to possible successful outcomes.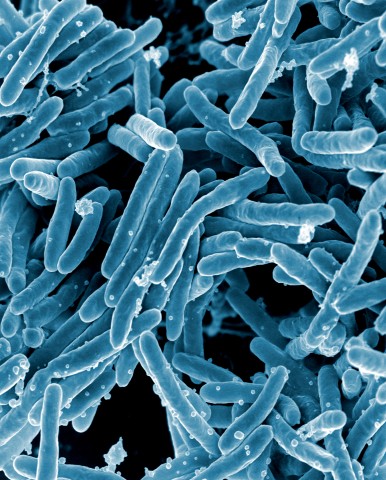 One of the new treatment options is based on the strengthening of the immune response, and the cellular process of autophagy has been proposed as a mechanism that the immune system uses to kill M. tuberculosis. Therefore, modulation of autophagy may represent a new option for the development of tuberculosis therapeutic and vaccine strategies, as indicated by research performed in mouse models. But is this approach safe? Results from a new study show that, in individuals with both tuberculosis and HIV infection, modulation of autophagy should be viewed with caution.
Robert Blomgran, senior author of the study, said in a press release: "When the world of research is looking for medicines, finding ways to strengthen immune defense is also now desirable, since medicines that attach the bacteria directly have been shown to lead to the development of resistance to antibiotics. Strengthening the immune defense system can be done through things like what is known as 'stimulated autophagy'. But our research shows that the most common signal path for stimulating autophagy can be immediately dangerous."
In the past few weeks, autophagy has been a newsworthy topic.  Yoshinori Ohsumi has been awarded the 2016 Nobel Prize in Physiology or Medicine for his discoveries of its mechanisms. "Autophagy controls important physiological functions where cellular components need to be degraded and recycled. Autophagy can rapidly provide fuel for energy and building blocks for renewal of cellular components, and is therefore essential for the cellular response to starvation and other types of stress. After infection, autophagy can eliminate invading intracellular bacteria and viruses. Autophagy contributes to embryo development and cell differentiation. Cells also use autophagy to eliminate damaged proteins and organelles, a quality control mechanism that is critical for counteracting the negative consequences of aging. Disrupted autophagy has been linked to Parkinson's disease, type 2 diabetes and other disorders that appear in the elderly. Mutations in autophagy genes can cause genetic disease. Disturbances in the autophagic machinery have also been linked to cancer. Intense research is now ongoing to develop drugs that can target autophagy in various diseases."
The induction of autophagy has the potential to clear M. tuberculosis. Currently, pharmacological activation of autophagy is mostly achieved through what is known as "mTORC1 inhibition". Blomgran and his collaborators were interested in its effects in presence of M. tuberculosis and HIV co-infection. The researchers found that in cells infected with a low dose of M. tuberculosis, stimulated autophagy through mTORC1 inhibition led to increased M. tuberculosis replication. In cells co-infected with M. tuberculosis and HIV, the increase in M. tuberculosis replication was even more pronounced.
Tuberculosis is present in either latent or active form. Individuals with latent tuberculosis infection do not feel sick and do not have any symptoms. They are infected with M. tuberculosis, but do not have tuberculosis disease, they are not infectious and cannot spread M. tuberculosis to others. Overall, without treatment, about 5 to 10% of infected individuals will develop tuberculosis disease at some time in their lives. For individuals whose immune systems are weak, especially those with HIV infection, the risk of developing tuberculosis disease is considerably higher than for patients with normal immune systems.
For their study, the researchers used a low dose of M. tuberculosis to mimic latent infection. Therefore, in their paper, they conclude that until proven otherwise, autophagy induction as a treatment option for tuberculosis should be handled with caution. Co-infection with HIV could increase the replication of M. tuberculosis and possibly activate tuberculosis in latently infected individuals.