Dendritic cells and T lymphocytes play together to ensure immunological tolerance—a functional state in which T lymphocytes are unable to respond to certain antigens. Why is immunological tolerance necessary? The answer is simple: T lymphocytes must be able to direct their destructive potential to infected cells and cancer cells while, at the same time, avoiding to attack healthy cells. In other words, T lymphocytes must be able to respond to foreign antigens while tolerating self-antigens. Such self/non-self discrimination is essential to avoid autoimmune responses. Understanding the mechanisms that lead to immunological tolerance is crucial to advance the development of therapeutic strategies for the treatment of autoimmune diseases, and to improve the outcome of organ transplantation.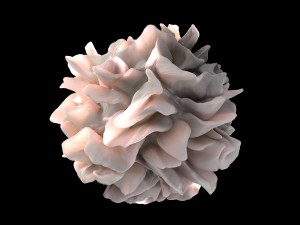 According to Daniel Hawiger, dendritic cells "are the music directors, telling other lymphocytes such as T cells what to do and how to do it." Hawiger is the senior author of a study recently published in the journal Immunity. The study (Immunomodulatory Functions of BTLA and HVEM Govern Induction of Extrathymic Regulatory T Cells and Tolerance by Dendritic Cells) helps to understand how dendritic cells direct T lymphocytes to learn tolerance for the body's own antigens. "T cells are the immune system's fighters," Hawiger said. "Dendritic cells help train T cells to distinguish between self and non-self."
Dendritic cells were first described by Ralph Steinman in the 1970's and, since the 1980's, it has been known that one of the major functions of dendritic cells is antigen presentation—the display of peptides derived from viral and cancer antigens to T lymphocytes. Following recognition of peptides, T lymphocytes become activated and initiate a complex set of events. These events require the participation of different immune cell types and may lead to the elimination not only of cells infected with viruses, but also cancer cells. However, results obtained in the past few years indicated that, in absence of pro-inflammatory stimuli, activation of T lymphocytes by dendritic cells results in tolerance—T lymphocytes will not become activated following presentation of peptides. Induction of tolerance is mediated by a particular type of T lymphocytes—the so-called T regulatory cells.
Now, results from the new study by Hawiger's team show that, in contrast to what previously believed, the presentation of antigens to T lymphocytes by all dendritic cells in absence of infection and inflammation does not lead to the induction of tolerance, and it does not lead to immunity. Rather, it causes short term activation of T cells, but no long term effects. In addition, results from the new study show that tolerance can be induced only when antigens are acquired and then presented to T lymphocytes by a specialized group of dendritic cells. These specialized dendritic cells carry on their surface a protein called B and T lymphocyte attenuator, or BTLA for short. BTLA gives specific signals to T lymphocytes by interacting with a receptor—called herpes virus entry mediator or HVEM—located on the surface of the T lymphocytes. Induction of tolerance occurs only in presence of these specific signals.
Hawiger said: "I hope this new information may help us more precisely regulate the immune response. In the case of an illness like multiple sclerosis, where the immune response is causing damage, we may be able to develop a therapy that will dampen that response. Perhaps we can harness these functions and learn to turn the volume up or down, in response to the needs of those with a variety of health concerns, and in particular, autoimmune diseases."