Thanks to their keen sense of smell, African giant pouched rats can be trained to detect landmines and tuberculosis. Two weeks ago, Maarten Boersema reported in The Scientist that "It takes about nine months to fully train a tuberculosis-detection rat. But once trained, the rat can screen thousands of patients every month."
Rats are not the only disease-sniffing animals. Results from a study published in 2006 (Diagnostic accuracy of canine scent detection in early- and late-stage lung and breast cancers) show that, in just a few weeks, ordinary household dogs can be trained to accurately distinguish the scent of different breath samples — breath samples from lung and breast cancer patients and breath samples from healthy controls.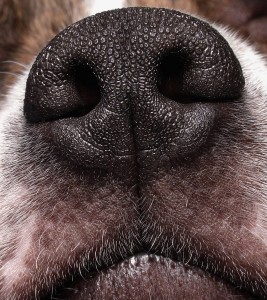 Results from another study (Human ovarian carcinomas detected by specific odor) published a few years later, demonstrate that trained dogs can distinguish different types and grades of ovarian carcinomas from healthy control samples, with 100% sensitivity and 97.5% specificity. Interestingly, the study also shows that most common ovarian carcinomas are characterized by a single specific odor, an odor different from those of cervical, endometrial, and vulvar carcinomas.
The disease-sniffing ability of dogs is not limited to cancers. Dogs for Diabetics (D4D) trains dogs to recognize the scent associated with chemical changes in blood sugar, so they can provide an alert prior to the onset of hypoglycemia  (low blood sugar), which develops as a side-effect of insulin therapy. D4D then places the trained dogs with insulin-dependent diabetic patients.  
Now, a new study shows that humans are capable of similar feats — they can recognize the scent of an activated innate immune response. The study (The Scent of Disease: Human Body Odor Contains an Early Chemosensory Cue of Sickness), published a few days ago (January 22, 2014) in the journal Psychological Science, was carried out by an international team of researchers based in Sweden and the U.S.
The researchers recruited 8 volunteers for "donation of body odor". The donors received injections of either LPS or saline. LPS — or bacterial lipopolysaccharides — are major components of the outer surface membrane present in almost all Gram-negative bacteria and are efficient stimulators of the innate (inflammatory) immune response, our first line of defense. Saline is a salt water solution that was used as a control. The donors wore tight T-shirts to allow for the sampling of body odor.
Four hours after injection of either LPS or saline, the researchers measured the body temperature of the donors as well as the levels, in the donors' blood, of proinflammatory cytokines — proteins that indicate the presence of an inflammatory response. The researchers found that the donors injected with LPS had increased body temperature and increased levels of proinflammatory cytokines — thus, these donors developed an inflammatory response similar to that induced by a bacterial infection. In contrast, body temperature and levels of proinfammatory cytokines were unchanged in the donors injected with saline (the control donors).
Next, the researchers recruited 40 participants to evaluate the body odor of the donors. Each T-shirt worn by the donors during and after injections of LPS or saline was placed separately in a squeeze bottle. The 40 evaluators were asked to squeeze the bottles, smell the headspace, and rate the intensity, pleasantness, and health of the body odor. The results of the study indicate that humans can recognize and differentiate the odors of sick and healthy individuals.
The researchers conclude that humans are able to detect sickness on the basis of body odor alone, which can be triggered by the innate immune response, observable just a few hours after activation induced by injection of LPS (as in the study) or by bacteria (as in natural infections). Thus, the ability to sense body odors may provide a "behavioral immune response" that protects healthy individuals from infection by changing their patterns of interaction with infected individuals.   
Copyright © 2014 Immunity Tales.