Candida yeasts — the most common of which is Candida albicans — normally live in and on the body, without causing any symptoms. However, Candida can overgrow, and cause "thrush" and "yeast infections". In addition, it can enter the bloodstream and cause candidemia — althougha extremely rare in people without risk factors, candidemia is the fourth most common bloodstream infection among hospitalized patients in the United States.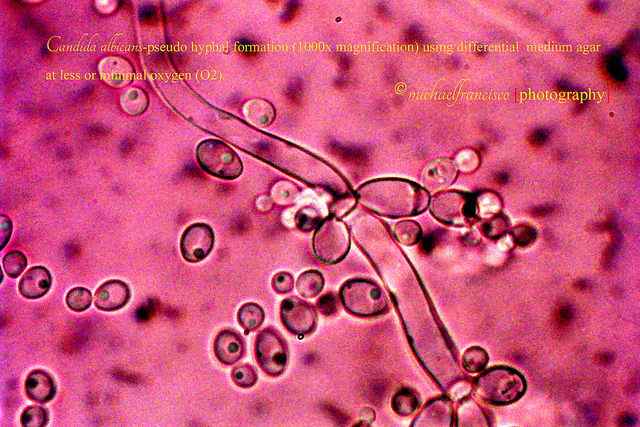 Until very recently, scientists thought that Candida albicans spread by changing shape — from a single, round cell, to a long string of cells, or filaments. The prevalent thought was that, by changing shape, the fungus could move through the bloodstream, let its filaments penetrate tissues, and destroy a specific type of immune cells by inducing an inflammatory programmed cell death. This specific type of immune cells, or macrophages, are the same immune cells that would otherwise kill the fungus. Instead, the fungus filaments induces macrophage pyroptosis.
A wide variety of infectious microorganisms cause the death of their host cells, and they do so using different mechanisms. Pyroptosis is one of the three forms of cell death (the other two are apoptosis and necrosis) — it's a programmed cell death associated with the antimicrobial responses that macrophages mount during inflammation. In this process, macrophages recognize certain danger signals within themselves and — in response to these signals — produce cytokines, swell, burst, and die.
However, results from a new study show not only that macrophage death is triggered by a little bit of sugar that appears on the surface of fungal cells, but also that the sugar appears only when the fungus is inside the macrophage. Leah Cowen, lead study researcher, said in a press release: "It's not the shape-change per se that enables the fungus to kill the immune cell, but what happens along with it. The addition of glycosylated proteins, which are proteins with a sugar attached, remodels the surface of the fungal cells."
Macrophages engulf invading infectious microorganisms, including Candida albicans. Following engulfment, the invaders wind up enclosed in phagosomes — vescicles that contain the invaders, and create an environment in which the invaders can be destroyed. 
The researchers found that Candida albicans remodels its surface in response to the environment it encounters in the phagosome — the remodeling of the fungal cells induced macrophage lysis (swelling and bursting). Induction of macrophage lysis occurred even if Candida albicans is dead.  In other words, ingestion by macrophages causes the fungus to change its surface through addition of glycosylated proteins — the resulting altered fungus surface is sufficient to induce macrophage lysis in the absence of C. albicans growth.
Researchers used an enzyme called Endo H to snip off sugars on the glycosylated proteins attached to the dead fungal cells. Removal of the sugars completely blocked the ability of the fungus to kill. This finding provides a strong lead on a new and needed therapeutic strategy for Candida albicans — thus, such new therapeutic strategy could be based on agents that remove sugars from the altered surface of the fungus.