In the past months, Ebola has received a lot of attention. As of December 3, 2014, the Ebola Response Roadmap Situation Report published by the World Health Organization (WHO) counted 17,145 reported cases and 6,070 reported deaths. However, another viral disease deserves the same level of attention — dengue hemorrhagic fever, which is sickening up to 100 million people a year and killing more than 22,000. We're in presence of a pandemic — the disease is present in more than 100 countries. It is a leading cause of hospitalization and death among children in some Asian and Latin American countries, but it's also found in Southern Europe and the United States.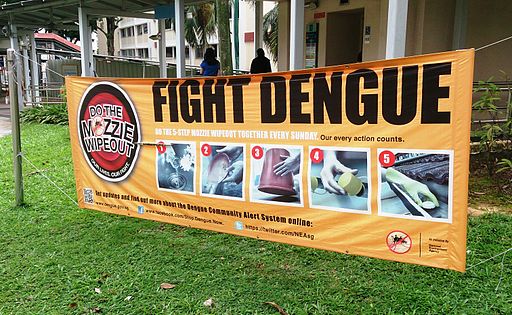 Dengue is not transmitted directly from person-to-person. Instead, it is transmitted by the bite of a mosquito infected with one of the four dengue virus serotypes. It is a febrile illness that affects infants, young children and adults. Symptoms range from mild fever to incapacitating high fever with rash, severe headache, pain behind the eyes, as well as muscle and joint pain. The disease is also known as "breakbone fever" due to the severe pain it can cause. 
Severe dengue (also known as dengue hemorrhagic fever) affects mainly children, and is characterized by fever, abdominal pain, persistent vomiting, bleeding and breathing difficulty — it is potentially deadly.
The WHO estimates that about half of the world's population is now at risk. However, at this time, there is no licensed vaccine or any specific medicine to treat dengue. Fortunately, there is hope. Several vaccines are in the final steps of development, with the one produced by the French pharmaceutical company Sanofi Pasteur awaiting regulatory approval — after a successful study showed it was safe and effective.
Results from the successful studyl — a phase 3 efficacy trial of a tetravalent dengue vaccine tested in five Latin American countries where dengue is endemic — were announced by Sanofi Pasteur on November 3, 2014. The results were published the same day in the New England Journal of Medicine (Efficacy of a tetravalent dengue vaccine in children in Latin America).
For the study, healthy children between the ages of 9 and 16 years were enrolled in Colombia, Brazil, Mexico, Puerto Rico, and Honduras from June 2011 through March 2012. The five countries were chosen on the basis of the incidence of dengue. The vaccine preparation included four recombinant dengue vaccine viruses, each constructed by substituting genes encoding the premembrane and envelope proteins of the yellow fever 17D vaccine virus with those from wild-type dengue viruses.
The researchers found that the vaccine had an efficacy of 60.8% against symptomatic dengue in children that followed a three-dose vaccination schedule. They also found serotype-specific efficacy against all four dengue serotypes. Over the 25-month trial period, the researchers observed efficacy of 80.3% against hospitalization for dengue and 95.5% against severe dengue.
Jianzhu Chen, an immunologist at MIT, told the Verge: "The dengue vaccine does not work so well. But it does appear to reduce hospitalization rates, which means that it probably reduces the severity of dengue symptoms. It's the best dengue vaccine so far, and its eventual approval will be a milestone for tropical medicine after such a long effort."
The New York Times points out that Sanofi Pasteur plans a tiered pricing approach to keep the vaccine within the reach of the many poor people who need it.
Copyright © 2014 Immunity Tales.