The 2014 Ebola epidemic began as a mysterious disease in a small village in Guinea at the end of 2013, but was not identified as Ebola until March 2014. From the original location near a tropical rainforest, it spread to major rural and urban areas across West Africa. Formerly known as Ebola hemorrhagic fever, Ebola virus disease (EVD), is a severe, often fatal illness in humans caused by the Ebola virus — the virus is transmitted to people from wild animals and spreads to the human population through human-to-human transmission. As of March 20, 2015, in countries with widespread transmission (Guinea, Liberia and Sierra Leone), there were 24,754 reported cases, with 10,236 total deaths.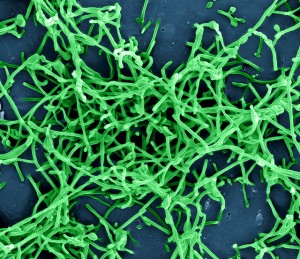 Despite the high number of cases, the human immune response to Ebola virus has not been well studied, delaying the development of effective vaccines. The very limited availability of infrastructures, especially those equipped with the high containment level necessary for these studies, hinders progress in understanding the human immune response to the virus.
However, a few days ago, a study published in the scientific journal Proceedings of the National Academy of Sciences described the immune responses of four EVD survivors who received care at a U.S. hospital. Rafi Ahmed, senior study author, said in a press release by Emory news center: "Until now, detailed studies like this in acute Ebola virus disease were logistically challenging. Our work only became possible through a close collaboration with the CDC and use of its biosafety level 4 facilities."
Results from the study (Human Ebola virus infection results in substantial immune activation) show that, in contrast to what previously believed, the four patients responded to the Ebola virus with immunoactivation. Combined results from several prior studies indicated, instead, that the virus may induce immunosuppression. Lead author Anita McElroy said in the press release: "Our findings counter the idea that Ebola virus infection is immunosuppressive, at least in the patients that we were able to study. They also demonstrate the value that supportive care may have in enabling the immune system to fight back against Ebola virus infection."
High levels of both B and T cell activation were present in all four patients. Plasmablasts, proliferating precursor cells of short- and long-lived plasma cells (which produce large amount of antibodies), represented 10–50% of the B cell population, compared with less than 1% in healthy individuals. Activated CD4+ T cells ranged from 5 to 30%, compared with 1–2% in healthy controls, while over 50% of the CD8+ T cells expressed markers of activation and proliferation. Immune activation was present even after the virus was cleared from the blood and patients had left the hospital.
The patients' CD8+ T cells — which directly kill infected cells — targeted several Ebola virus proteins. A major target was an internal protein called NP. The researchers suggest that NP could be added to existing vaccines to generate stronger T cell responses, as vaccines now entering clinical trials in Africa contain only the external glycoprotein called GP.
McElroy said: "CD8+ T cell responses have been associated with vaccine protection against Ebola infection in some animal models, but the relative importance of T cell responses, compared to antibody responses, in driving survival and vaccine efficacy in humans is not known. We anticipate it will be an active area of research in the future."