Innate immunity, the first line of defense against infectious pathogens and cancer cells, relies on a variety of cell types to carry out its pathogen-fighting and clean-up functions. Resident cells present in most tissues serve as sentinels, detect danger signals and send for help. Phagocytic cells—such as macrophages and neutrophils—respond to the call, infiltrate the injured tissue and, along with a variety of immunological mediators, initiate the inflammatory response. In addition, innate lymphocytes, which include natural killer cells and the so-called innate lymphoid cells, serve both as effectors and regulators during the innate immune response. The major effector functions of innate lymphocytes include direct cytotoxicity and secretion of cytokines.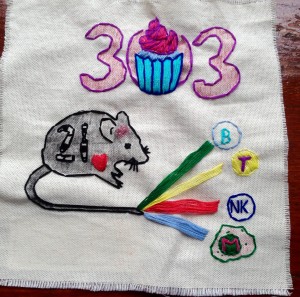 Innate lymphoid cells have only relatively recently been discovered in humans. They differ from the B and T lymphocytes of the adaptive immune response—innate lymphoid cells lack antigen-specific receptors and respond very rapidly once the presence of pathogens is detected by the sentinel cells. Thus, they play a critical role in defending the body's barrier regions such as skin, lungs, and gut.
There are three subgroups of innate lymphoid cells, which differ from each other on the basis of their response to signaling molecules and secretion of cytokines. Similarly to the natural killer (NK) cells, one of these subgroups—called group I innate lymphoid cells (ILC1s)—produces large amounts of the cytokine interferon γ (IFN-γ), and activate innate and adaptive immunity.
Now, results from a study (Natural killer-like B cell prime innate lymphocytes against microbial infection) published in the journal Immunity identifies a previously unknown lymphocyte subpopulation. This lymphocyte population expresses the B cell lineage marker CD19, along with the NK markers NK1.1 and Nkp46, and has been called natural killer-like B (NKB) by the study authors.
NKB cells are present in humans and in all commonly used inbred mouse strains, differ from T and B cells, express a fully rearranged BCR, and produce the cytokines interleukin-18 (IL-18) and interleukin-12 (IL-12) soon after infection. Through the action of these cytokines, NKB cells rapidly activate NK cells and ILC1 cells, thus playing a major role in the elimination of pathogens by priming immune responses against infectious pathogens, in particular intracellular pathogens. Indeed, activation of NK cells and ILC1 cells by NKB cells leads to production of IFN-γ, which is essential to the early control of a variety of viral and intracellular bacterial infections. As expected on the basis of their regulatory role, NKB cells are rapid responders—they proliferate within 24 hr after intracellular bacterial infections, whereas NK and ILC1 cell expansion peaks around day 3 in the same experimental system.
Thus, the study unveils an important new innate-like lymphoid cell subset that regulates activation of NK cells and ILC1 cells and participates in the generation of adaptive immune responses.