Parasitic worms infect over 2 billion people, especially children, in the poorest and most deprived communities across the world. Although most infected individuals have no symptoms, these parasites — also called helminths or intestinal worms —  may cause nutritional impairment, leading to a significant impact on growth and physical development.
However, there is more to parasitic worms than we usually think. Some may have beneficial effects, and are regarded as mutualists — because of their long co-evolution with mammals, they exist in a relationship in which each individual benefits from its host, and also provides benefits to the host. Scientists think that the eradication of intestinal parasites from industrialized countries contributes to the increased incidence of immune-mediated diseases — as for example asthma — present in these regions.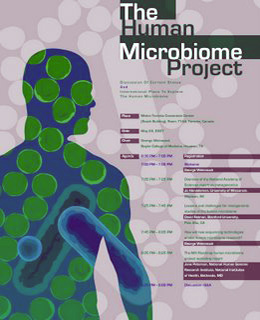 The interaction of parasitic worms with the mammal immune system is highlighted by recent studies. The presence of these worms in pregnant rats protects the brains of the rat pups from inflammation, attenuating their exaggerated brain cytokine response to bacterial infection. In addition, parasitic worms may induce immune system changes that boost or reduce a woman's fertility, as shown in an isolated Amazonian indigenous community.
But how do these worms communicate with the immune system? Researchers at the Ecole Polytechnique Fédérale de Lausanne have recently answered this question — at least in part — through studies performed in pigs and mice. The anti-inflammatory activity of intestinal worms involves "cross-talk" with the microbiome.
The microbiome is made up of dynamic communities of trillion microbes, and consists of eukaryotes, archaea (primitive single-celled organisms), bacteria and viruses that reside on and in our bodies. These microbes complement each other and the human host, and play important roles in a variety of biological processes. Indeed, 0ur microbial partners carry out a number of metabolic reactions that, although not encoded in the human genome, are necessary for human health. Thus, the microbiome is a newly recognized organ, capable of a great variety of metabolic activities.
For their study, the researchers looked at helminths that infect pigs. After chronic infection with the helminths, they discovered that the animals' metabolism had been changed drastically; specifically, they produced increased levels of a class of fats in the gut called "short-chain fatty acids". These fatty acids are produced by the microbiome, and can activate a family of receptors that in turn influence the immune system, inducing anti-inflammatory cytokine secretion and regulatory T cell suppressor activity. The receptors are also known to contribute to certain functions, and malfunctions, of the colon, and are even involved in modulating allergic airway disease.
The researchers then monitored cells in the immune system of mice that had been infected with a helminth. Similarly to the pigs, the mice showed an increased production of short-chain fatty acids, and these acted on the same receptors to influence specific immune cells. Thus, the researchers uncovered a clear link between worm infection, microbiome, diet, and the immune system. However, in their paper, they point out that — on the basis of other studies — it is likely that helminths also directly impact immune cell function by secreting immuno-modulatory products.
Nicola Harris, senior author of the study, said in a press release: "It's not the whole story, but it opens up an additional, intriguing way to explain – and perhaps exploit – the strategy with which intestinal worms communicate with the host's immune system."