Cancer can spread from where it started (the primary site) to other areas of the body, forming metastasis. But how do cancer cells spread from the primary site to other areas of the body? When cancer cells break away from a tumor, they travel through either the bloodstream or the lymph system to reach other sites. If they travel through the lymph system, the cancer cells may end up in lymph nodes and grow inside them, forming lymph node metastasis. Usually, this process affects lymph nodes located near the primary cancer site — these lymph nodes are called draining lymph nodes, as they do most of the work to filter out or kill the cancer cells. At the same time, they are a staging area, and play a key role in advancing metastasis throughout the body when cancer cells are not killed. Between 29 and 37 percent of patients with breast, colorectal, and lung cancers are diagnosed with metastases in their tumor-draining lymph nodes.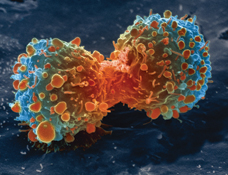 Now, results from a new study carried out using a mouse model, show that modified cells called "super natural killer cells" are able to seek out cancer cells in lymph nodes to destroy them, thus halting the process of metastasis. Michael King, senior author of the study, said in a press release: "We want to see lymph node metastasis become a thing of the past."
The super natural killer cells find the cancerous cells in the lymph nodes and induce apoptosis — in other words, the cancer cells self-destruct and disintegrate, thus averting their further lymphatic spread. But what are these super natural killer cells? They are a modified version of the so-called natural killer cells — or NK cells for short.
NK cells are a type of lymphocytes that play a major role in the killing of cancer cells and virus-infected cells by inducing apoptosis. To obtain the "super" version of these lymphocytes, scientists attached nanoparticles to the NK cell surface. These nanoparticles contain a protein dubbed TRAIL (Tumor necrosis factor Related Apoptosis-Inducing Ligand), which induces apoptosis by interacting with death receptors on cancer cells. But how does the system work in mice, exactly?
Mice are injected with nanoparticles containing TRAIL. However, in addition to TRAIL, the nanoparticles contain an antibody against a mouse natural killer cell marker. Once injected, the nanoparticles reach the draining lymph nodes, where they selectively attach to natural killer cell via the antibody. The TRAIL-armed natural killer cells, or super natural killer cells, then kill the cancer cells in a few days, and prevent lymphatic spread.
In January 2014, King and his colleagues published research showing that metastasizing cancer cells in the bloodstream could be annihilated by attaching the TRAIL protein, in combination with the E-selectin adhesion receptor, to natural killer cells. These cells were dubbed "unnatural killer cells."
"So, now we have technology to eliminate bloodstream metastasis — our previous work — and also lymph node metastases," King said in the press release.
Below is a video in which King explains his study on super natural killer cells that target metastasis in the lymph nodes.